Ambience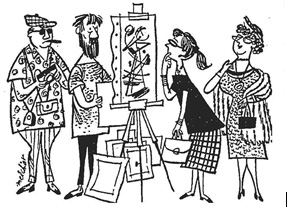 The restaurant courted a typically "Village" reputation:
Young men with a strange glint in their eyes and wearing berets serve the tables at Albert's French restaurant…. A brochure they offer describes the village as place "where the quaint rubs shoulders with the avant garde...where bearded poets still sip wine at a sidewalk cafe...and artists turn a city park into an open air gallery with music."
Even traditional events got a different coloration:
The first Santa Claus of the season has taken up a station outside the Albert French restaurant in Greenwich Village, and his beard is green. It's not exactly traditional, but it's probably appropriately hip for that neighborhood....
And the restaurant even offered its own ghost for Halloween:
On Halloween in the United States ghosts take over in traditional style; yet on the morning after, they have all vanished mysteriously - except those in New York's Greenwich Village!

There, according to scores of inhabitants, haunting is a full-time business. "The Village," explains one gentleman, who has long been studying the appearance of ghosts in the area, "because of its many old structures and colorful history, is the obvious locale for spirits of the past."….

The ghost of artist Albert Ryder, too, is declared to return every Halloween to the Albert French restaurant on East 11th Street, where many years ago he had painted several murals.

Again this year, Ryder - or rather his ghostly counterpart - will be called upon to answer questions about his work on famous murals. Long John, an Indian medium, will try to interrogate Ryder and get the answers.