Joseph Brody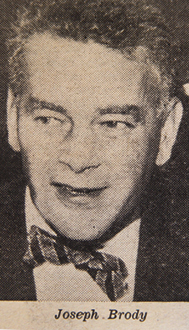 A long-term tenant (although how long isn't entirely clear) was the Albert French Restaurant, 42 East 11th Street, run by Joseph Brody from about 1946 to 1968. That year, Kwei Chu, who began working for Brody c.1960 and became head chef by 1965, took over the restaurant and ran it until May 31, 1971, when he closed it. According to Chu, after leaving the restaurant, Brody disappeared.

One account calls Brody a French refugee, while another calls him a Czech refugee. A source purportedly published in 1959 reads:
Joseph Brody, a French refugee, bought the ALBERT FRENCH RESTAURANT in 1946 and, reversing the usual trend, turned it into an American restaurant, specializing in steak. His slogan is "All the steak you can eat for $2.35 "
Brody was described as an eccentric:
Asked if it was true [in 1960] that he was a "wealthy and legendary eccentric," as an aide had described him, Mr. Brody said, "I'm not wealthy, but I'm crazy."
In 1967 he placed this ad in the New York Times:
OVERPRIVELEGED, SEMI-RETIRED
GENIUS
- willing to make available his services for $15,000. Will instruct in restaurant management, buying, advertising, PR and Finances
BY APPOINTMENT ONLY
JOE BRODY
GENIUS IN RESIDENCE
ALBERT FRENCH RESTAURANT
42 East 11th Street, New York, N.Y.
Phone: GR 3-7775


Brody was famous for having seven press agents (see below), who saw that items about his restaurant got into many newspapers. According to one story in 1958:
Joe Brady [sic] of Albert's French Restaurant reports he was buying some records at a music shop when he heard a Frenchman's voice protest: "But certainly zere is such a song. Eet is very populaire. Everybody knows eet!"
The clerk turned toward Brady helplessly. "This fella's asking for an album called Off the Icing - and there's no such recording!"
Well, between the three of them, the mystery was soon untangled. The album the Frenchman wanted was - Of Thee I Sing.