Brody's Press Agents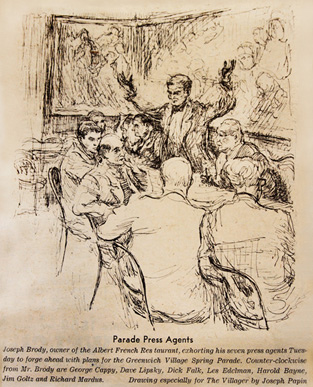 Brody was famous for his press agents, as in a clip from 1959:
The Albert French restaurant's Joe Brody (he of the seven press agents) bedded with a leg ailment the past 10 days.
Newsweek in 1959 mentioned them:
The Albert French Restaurant in New York, for example, pays seven press agents $50 a week to get its name mentioned in the gossip columns.
Brody's press agents got around. In 1959:
The senior class of journalism at Fairleigh Dickinson College, Rutherford, N.J., will be lectured to by Lester Edelman, one of the Albert French restaurant's seven press agents, next Tuesday.
Relations between Brody and his agents were not always amicable. In 1960, Brody appeared in Walter Winchell's gossip column:
Albert French Restaurant boss Joe Brody has a shiner given by one of his press-agents.